We offer you the best
The Hotel Movich Buró 51 welcomes you to one of the best hotels in the city of Barranquilla, located in the Buró 51 business complex.

Designed to reflect the elegance of Barranquilla's traditional culture, Barranquilla's Hotel Movich Buró makes reference to the Carnival of Barranquilla, a UNESCO Intangible Cultural Heritage site. With event venues, gym, spa and wet areas, free Wi-Fi, concierge, terrace with swimming pool, delicious cuisine and other outstanding services, our hotel in Buenavista is perfect for all your business and pleasure trips.

Make your reservation at the Movich Hotels official website at the best online price and enjoy the highest quality on your business trips.
RNT: 41811
STRATEGIC LOCATION
ROOFTOP
SOCIAL CENTER
WELLNESS CENTER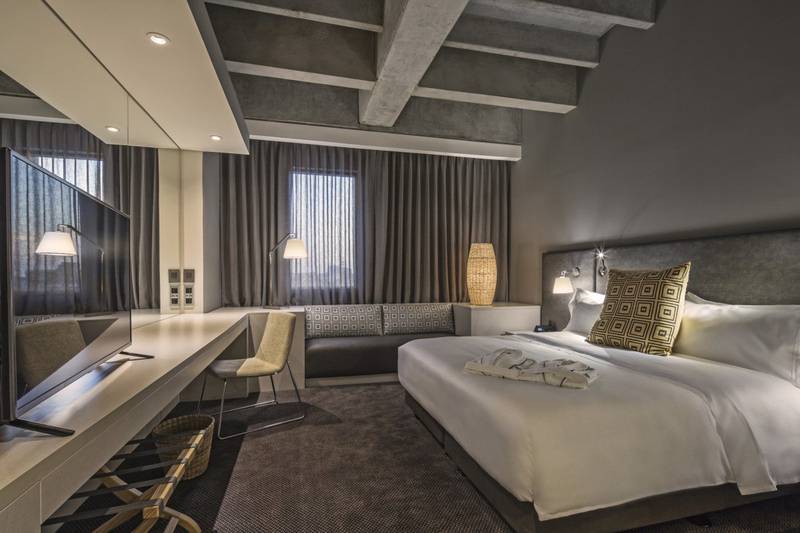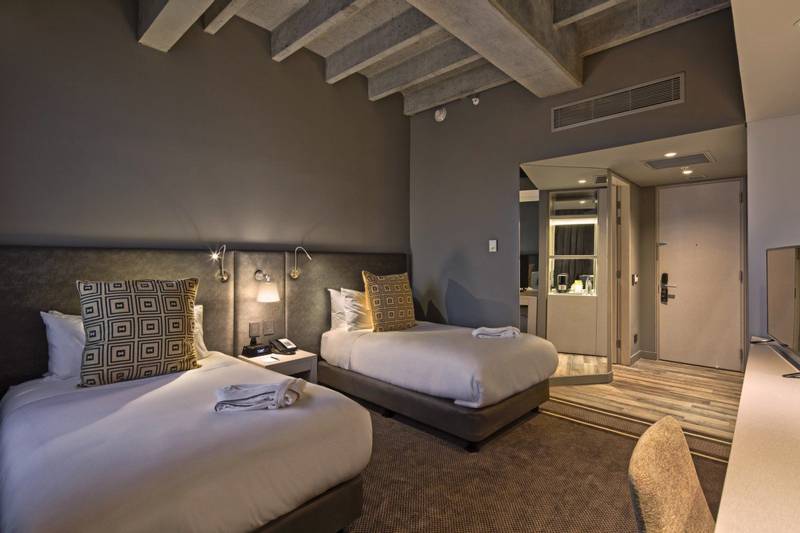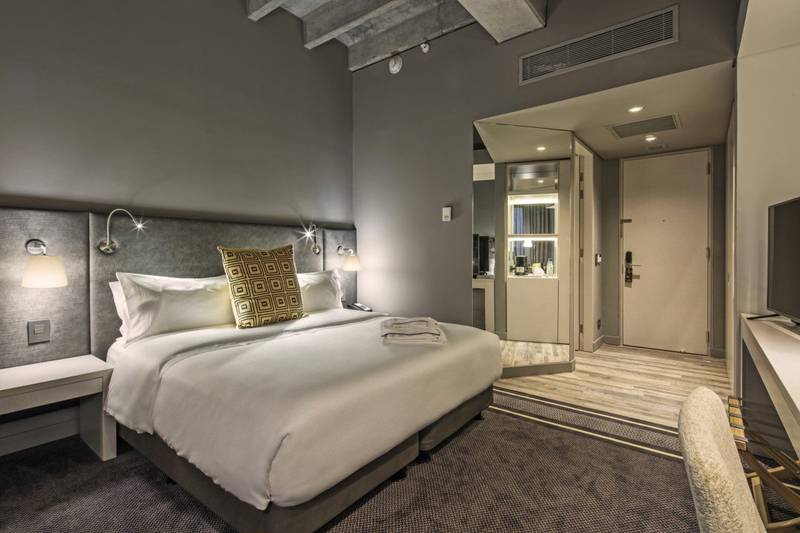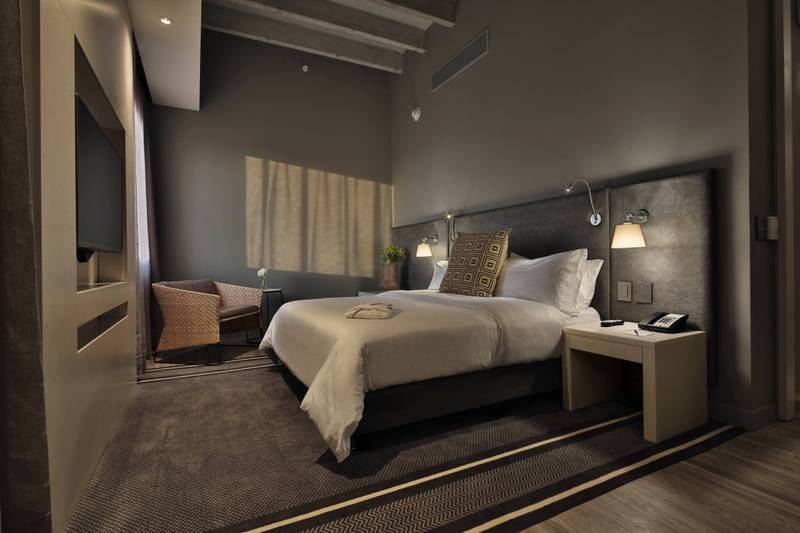 Rooms
Comfort and high quality services, a lovely atmosphere, different types of rooms. The rooms at Hotel Movich Buró 51 are the perfect place to stay in Buenavista, one of the most exclusive areas in Barranquilla.
See more
Services
Always avaible to meet all your request
Check out the Hotel Movich Buró 51's exclusive services and facilities. This hotel makes it easy for you to experience great design, taste delicious cuisine and visit rooms where a great social life is possible.
See more
Terrace with pool

Enjoy a breathtaking view of Barranquilla from the terrace with swimming pool and solarium.

Ebano Restaurant

Our signature cuisine restaurant combines the typical ingredients of the region with international culinary techniques. It offers buffet breakfast for both guests and for city locals who want to discover the flavors we suggest. /br>
RESERVAS

Iraka Bar

The perfect place to enjoy sharing delicious cocktails and drinks and tasting the delights on its menu.

Executive floor

Access the Premium benefits of the VIP room with access to meeting rooms, snacks and your pre-chosen preferences. Snacks, with a drink, will be brought to the room. They are not available on the executive floor. Schedule: Monday to Friday from 3:00 p.m. to 9:00 p.m.

Spa

Boost your well-being with our therapies in just 3 steps. Detoxify, relax and re-energize your body, mind and spirit. You can get more information here.​ To use these areas, you must make a previus reservation at reception.

Wet areas

Our wet areas offer you a variety of options to improve your wellbeing. The jacuzzi will provide youwith hydro massages within the spa. The sauna will open your pores by means of dry heat, while in the Turkish bath you'll be able to relax your muscles in a moist heat. To use these areas, you must make a previus ...

Events venues

Celebrate your corporate and social events in our elegant rooms.You can get more information here.​

Gym

Make use of our new machines to keep fit and in shape.

Transport

Schedule your transport (at an additional cost) from leaving your home or office until your return and have a Movich experience always.

Concierge

With the help of our local guide, plan your stay in Barranquilla and book your entertainment.

Free Wi-fi

Internet is a fundamental tool for keeping connected with the rest of the world. In all of our spaces you can count on a free, stable, high-speed wireless connection.

Pool Terrace

Our terrace is expansive, with comfortable beds and parasols built in. Enjoy a long and impressive pool and appreciate the imposing city of Barranquilla from the poolside.

Wi-Fi at no additional cost

Stay connected during your entire stay at the hotel.

Ébano Restaurant

Our signature cuisine restaurant gathers flavors typical of Colombian food and extrapolates them into an international sphere. It includes a doorway to the terrace so you can enjoy dishes outside with an incredible view of the city. The golden color dominates, a tone intertwined with luxury, wealth, and light.

Iraka Bar

At our bar you will have access to a wide variety of drinks already ready to be served and/or signature cocktails prepared by experts. It's the perfect place to reflect or to organize a formal or informal business meeting. You will have the opportunity to enjoy the city of Barranquilla with fine liquor.

Spa

The best option for relaxation is to enjoy a massage session with qualified personnel in our spa. Its luxury facilities create an environment of tranquility and harmony, an ideal location to relax after a long day. To use these areas and the spa, you must make a previus reservation at reception.

Event rooms

At Movich Buró 51 we have several events parlors, each one with a different reception capacity. The furnishing of each room can be accommodated to match the type of event: cocktails, banquets, etc. Simple, luminescent, and bright are the best words to describe these spaces.

Gym

It is equipped with modern machines in perfect condition, so you can work different areas of your body as you please. The gym boasts a view of the pool terrace to encourage gym-goers to also enjoy exercise in the open air.

Concierge

You can count on the help and advice of a concierge with ample experience. If you want to get to know the charms of the city of Barranquilla, they will advise you on which spots you should visit and when you can do so. They will also help you with anything you need in your day to day.

Transport

For an additional cost, we offer a transportation service, so you have the chance to go wherever you want, whenever you want, in a safe and trustworthy way. This way, you'll get to know our city and everything it has to offer.
Our location is
Unbeatable
Located in the business complex Buró 51 de Buenavista, just 10 minutes from downtown Barranquilla and 30 minutes from the Ernesto Cortissoz International Airport, the Hotel Movich Buró 51 is a very good choice for all your stays in Barranquilla.
Movich Hotels
+57 (601) 521 5050
reservas@movichhotels.com
Calle 94 # 51B – 43
Explore