We offer you the best
Welcome to the Hotel Movich Casa del Alferez, a colonial-style boutique hotel situated in the exclusive area of ​​Granada, Cali. The hotel is located in the area where you will find ​​the best shops for fashion and the most exquisite restaurants. A building that has been remodelled in the colonial style and inspired by the great Colombian romantic writer Jorge Isaacs.

Once inside you can enjoy an exclusive experience with care taken in every detail. This desire to take care of our guests has made the Hotel Movich Casa del Alférez the only hotel in the city to belong to the exclusive Small Luxury Hotels worldwide network. Visit our terrace, delight in the Junambú breeze and experience the flavors of our carefully prepared Colombian cuisine.

Make your reservation at the best price on the Hotel Movich Casa del Alférez website and enjoy the best boutique hotel in Cali.
RNT: 27864
VIP LOCATION IN CALI
CLASSY EVENTS
IRAKA ROOFTOP BAR
ROOMS WITH CHARM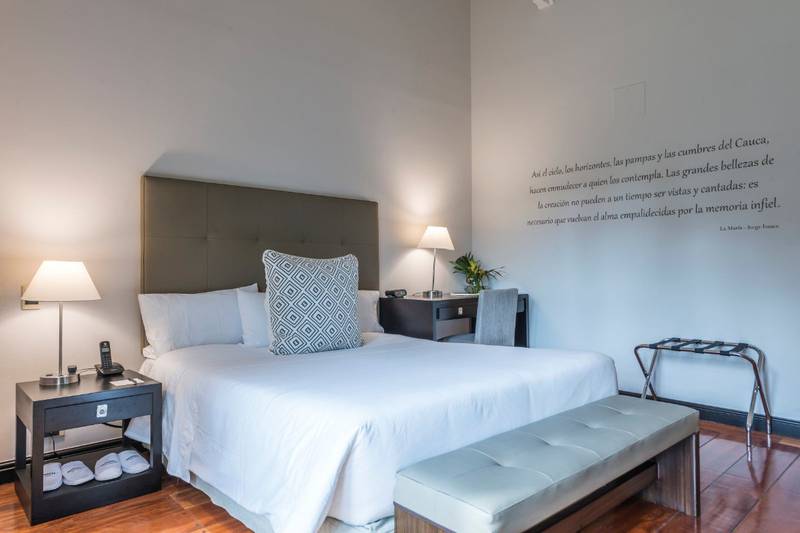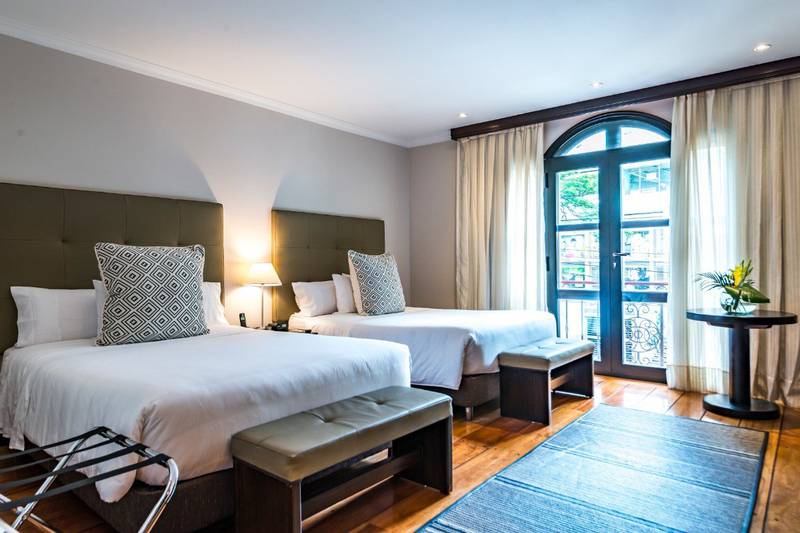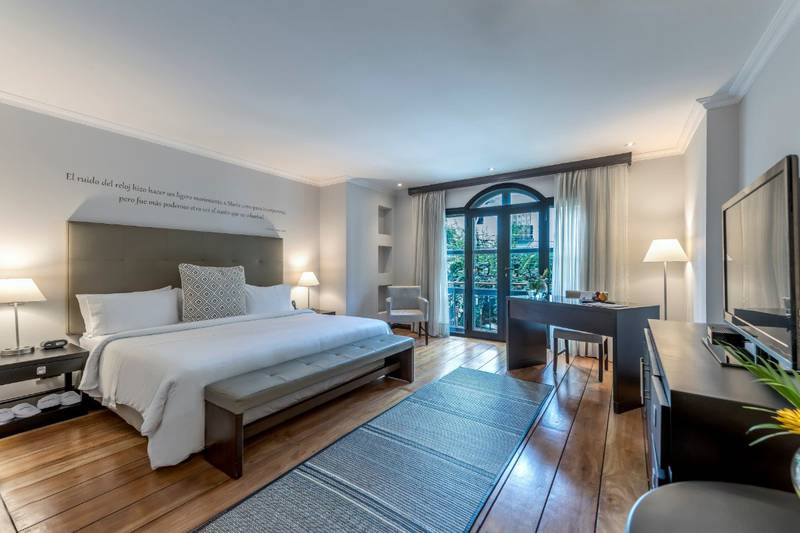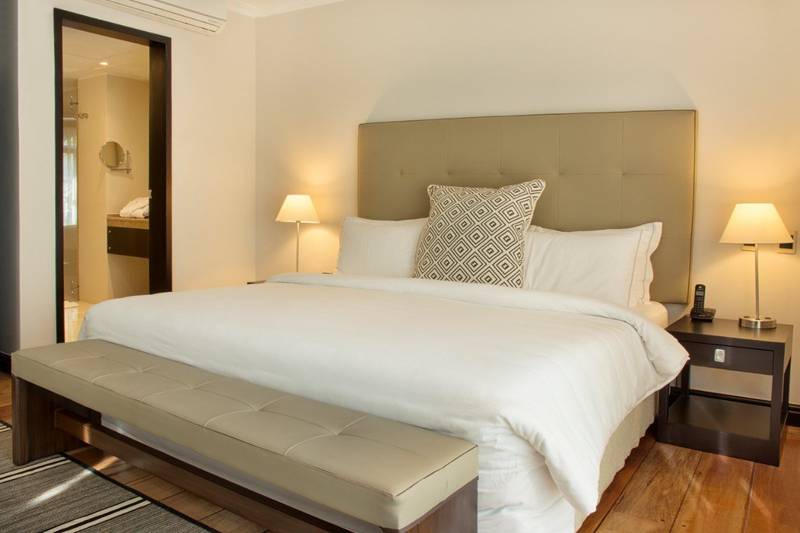 Rooms
For business or pleasure, the Hotel Movich Casa del Alférez offers you a unique opportunity to stay and experience something different.
See more
Services
Always avaible to meet all your request
In every part and every little detail of the Hotel Movich Casa del Alférezyou will find exclusive experiences and services designed for your well-being.
See more
Transport

Our transport service begins and ends at your home or office. Schedule your transportation service with us for an additional cost and guarantee a wonderful Movich experience.

Gym

Enjoy an exercise session in our gym, which has cardio equipment.

Wi-Fi at no additional cost

Stay connected during your entire stay at the hotel.

Terrace bar Iraka

Our terrace at the Hotel Movich Casa del Alferez is a favorite place for our guests. Here you can enjoy the gentle breeze that runs through the Cali Valley, discover the finest cuisine or attend any of the musical performances on Thursdays and Fridays.

Events venues

Organize your work meeting or special celebration in our two event rooms or in the incomparable setting of our terrace restaurant. You can get more information here.​

Concierge

The aim of our concierge is to ensure that your experience is unique. He will make sure to give you good advice so that you have the best stay.

La Maria Restaurant

In a warm environment, guests will be able to taste a beautifully prepared signature cuisine that combines the best of traditional Colombian dishes with the most modern techniques.
BOOK NOW

Transport

Moving about freely is essential to a good lifestyle. Therefore, at Movich Casa del Alferéz we have a transport service at an additional cost. That way, you will have no excuse to not go where you want, when you want.

Gym

For a sound mind, your body should also be healthy. We know how important it is to exercise consistently to release tension and to tone muscles and stay in good physical health. Therefore, we offer you a gym so you can be the best version of yourself.

Free wifi

These days, a good internet connection is a must. For this reason, we provide you with a free high-speed connection in all our spaces. That way, you will always be able to check your email, social media, and be in contact at all times with anyone you like.

Concierge

Good help is always appreciated. Our concierge is trained to solve most of your concerns in terms of services, tourism and transport. If they do not have the answer, they will gladly find the best way to help you.

Event rooms

Options with everything necessary to hold cocktail parties, banquets, classes, productions and business meetings. Also, these spaces have air conditioning, a built-in projector, good lighting and furniture appropriate for every occasion.

La María Restaurant

Located on our premises, this restaurant specializes in signature cuisine. La María is known for innovation in the presentation of its dishes, while conserving its local and heritage flavors. Among our most requested dishes is a delicious sea bass ceviche.

Terraza Bar Iraka

From this large open-concept space with natural light, you can enjoy the view of the Granada neighborhood, very busy throughout the day. You will enjoy a calm environment, soft breeze, light music and the drinks we prepare.
Our location is
Unbeatable
The Hotel Movich Casa del Alferez is located in Granada, one of the most exclusive neighborhoods in Cali and in the heart of the Zona Rosa. The financial area, several shopping centers and the main attractions of Cali are all near the hotel.
Movich Hotels
+57 (601) 521 5050 / +57 (601) 482 4466
reservas@movichhotels.com
Av. 9 Norte # 9 – 24, Granada
Explore