We offer you the best
Discover all the flavor of the Hotel Movich Pereira, a hotel in Pereira's zona rosa that will ensure you have a comfortable and really enjoyable stay on your business trips, corporate meetings or family getaways.

Its wonderful location in the beautiful coffee region makes it an ideal place to have a world-class experience. Relax in our exclusive rooms, in the heated pool, in the spa, with the massage service and be amazed by the intense aromas of the signature cuisine in our restaurant Ébano. You can also exercise in the gym, hold events in our venues and enjoy a special cocktail served in the best style of the Tipsy Bird Bar.

Explore one of Colombia's most charming areas and book your hotel in the coffee triangle at the best price online on the Movich Hotels official website.
RNT: 2863
CONCIERGE
CONVENTION CENTER
LOCATION
WELLNESS CENTER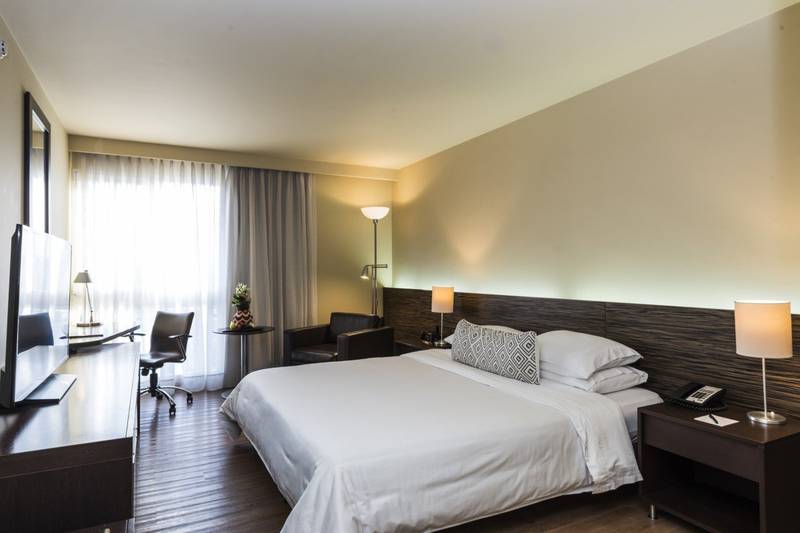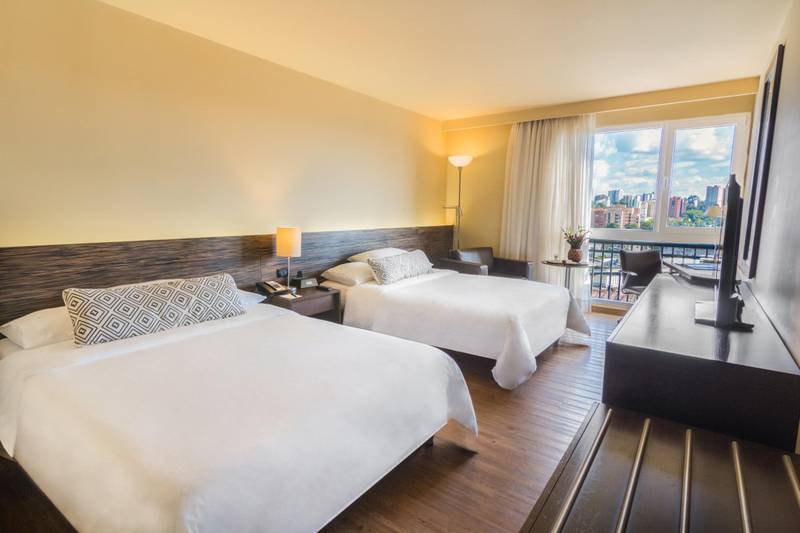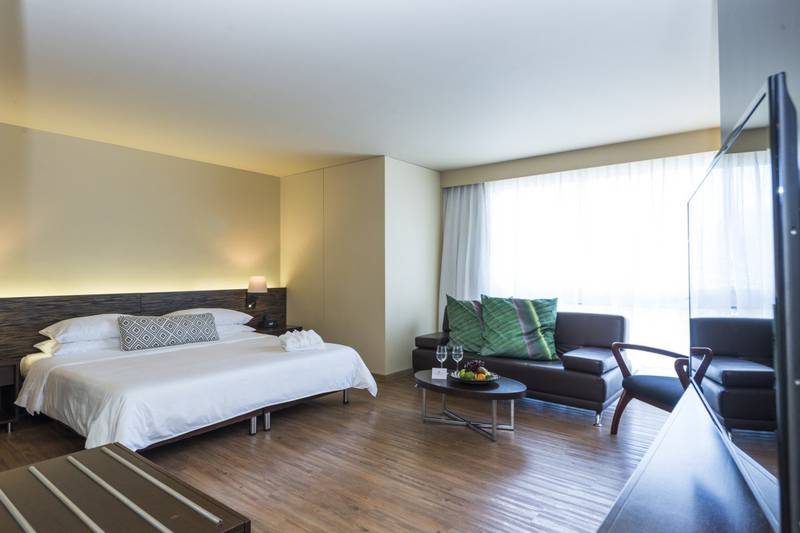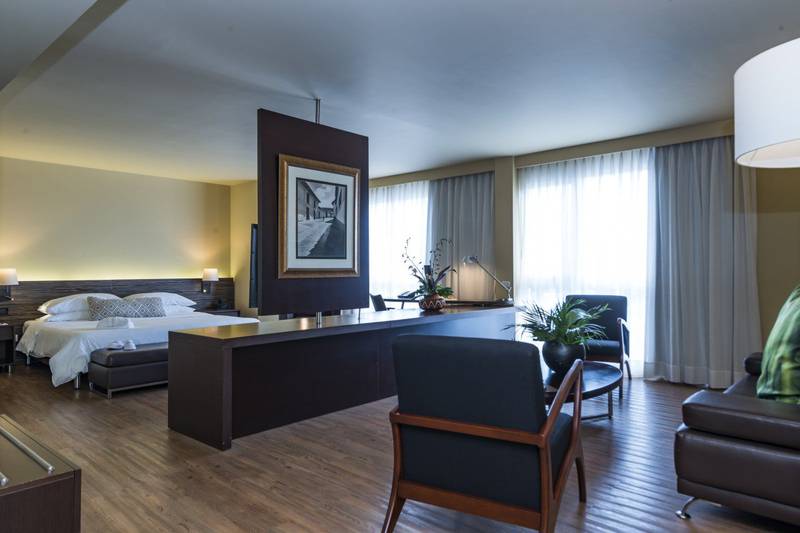 Rooms
Where you will stay in Pereira, the Hotel Movich Pereira's 202 rooms are made to guarantee delightful relaxation in the city's zona rosa. Get to know what it is like to stay in this hotel at the best value for money.
See more
Services
Always avaible to meet all your request
Enjoy a unique stay with the Movich Pereira Hotel services.
See more
Gym

Keep fit in the hotel's fully equipped gym with 24-hour service.

Steam Baths

Enjoy a steam bath in the Turkish bath, a massage in the Jacuzzi or relax in the Movich Pereira hotel's sauna.

Pool

The pool has a solarium area for you to relax in the sunshine.

Spa

The hotel spa is a perfect place to relax after a day of sightseeing in Pereira. You can get more information here.​

Concierge

Will be responsible for making your stay in Pereira a unique experience with suggestions that include activities as varied as walks through the coffee zone to recommendations for places to visit for nightlife.

Wi-Fi at no additional cost

Stay connected during your entire stay at the hotel.

Transfers

Transfer with booking and extra charges.

Event venues

Celebrate your corporate and social events in our elegant rooms. You can get more information here.​

Ebano Restaurant

The Ebano restaurant at Movich Pereira Hotel is considered one of the best upscale restaurants in the region for its special care in the kitchen and its warm personal service. You can get more information here.​

Tipsy Bird Bar

This is a unique place in the city of Pereira with signature cocktails where you can hear the music of the 70s, 80s and 90s. Every Friday you will be able to see the region's best rock bands playing live great hits.

BOOK NOW

Restaurante Ébano

En nuestro restaurante, degustarás platos de cocina de autor que incluyen ingredientes locales y delicias regionales. Además de los mejores olores, sabores y colores de Colombia, se ofrecen platos de la gastronomía internacional.

Tipsy Bird Bar

¿Buscas un espacio original,sofisticado y único? Este es el lugar donde puedes paladear cócteles de autor mientras escuchas música de los 70, 80 y 90. Los viernes hay bandas de rock que harán de tu velada una noche espectacular y muy divertida. La decoración es cálida y versátil, ideal para un rato con colegas que buscan relajarse, amigos íntimos que ...

Salones de eventos

En caso de necesitar efectuar un evento empresarial o familiar, ponemos a tu disposición salas de reuniones y salones de eventos. Todos incluyen equipos audiovisuales y servicio especializado con WiFi de alta velocidad, sin costo adicional. Para estas salas se maneja un esquema flexible: puedes reservar desde una sala ejecutiva para una junta de trabajo con colaboradores hasta espacios para ...

Gimnasio

Nuestra visión en Movich Pereira es ofrecerte un lugar para vivir y trabajar con total confort, calidez y lujo. Para ello tienes a tu disposición un gimnasio completo con servicio las 24 horas del día. ¡Ya puedes fortalecerte cuando lo desees! Ejercítate, relájate o inicia una rutina diaria en modernos equipos. El espacio es luminoso, con vistas al exterior y ...

Spa y zonas húmedas

Para tu bienestar integral, tenemos las mejores terapias corporales y faciales en nuestro spa. ¡Te brindaremos el equilibrio que necesitas entre cuerpo y mente! También ponemos a tu disposición masajes clásicos para liberar tensiones, estrés y dolor. Para una experiencia doble, ven con tu pareja y disfruten la sensación única de revigorizarse en compañía.

Piscina

Contamos con una piscina exterior climatizada, ideal para momentos de descanso y ejercicio vigorizante. Déjate envolver por sus aguas y vive el placer de tener una piscina de primer nivel a tu entero gusto. Si decides relajarte tomando el sol y aspirando la aromática brisa, la zona cuenta con un solárium.

Conserje

Una persona experta, gentil y atenta se encargará de hacer que tu estancia en Movich Pereira sea una de las mejores experiencias de tu vida. Estará atento a todos tus requerimientos, resolverá tus dudas y tendrá recomendaciones y tips para ayudarte a disfrutar al máximo de la vida nocturna de la ciudad e informarte de eventos y excursiones en la ...
Our location is
Unbeatable
The Movich Pereira Hotel is located in Pereira's zona rosa, in the heart of the coffee-growing area. This region stands out for its unique sunsets, its fascinating culture and its happy people.
Movich Hotels
+57 (601) 521 5050 / +57 (601) 482 4466
reservas@movichhotels.com
Carrera 13 # 15 – 71, Pereira, Risaralda
Explore