We offer you the best
Discover all the flavor of the Hotel Movich Pereira, a hotel in Pereira's zona rosa that will ensure you have a comfortable and really enjoyable stay on your business trips, corporate meetings or family getaways.

Its wonderful location in the beautiful coffee region makes it an ideal place to have a world-class experience. Relax in our exclusive rooms, in the heated pool, in the spa, with the massage service and be amazed by the intense aromas of the signature cuisine in our restaurant Ébano. You can also exercise in the gym, hold events in our venues and enjoy a special cocktail served in the best style of the Tipsy Bird Bar.

Explore one of Colombia's most charming areas and book your hotel in the coffee triangle at the best price online on the Movich Hotels official website.
RNT: 2863
CONCIERGE
CONVENTION CENTER
LOCATION
WELLNESS CENTER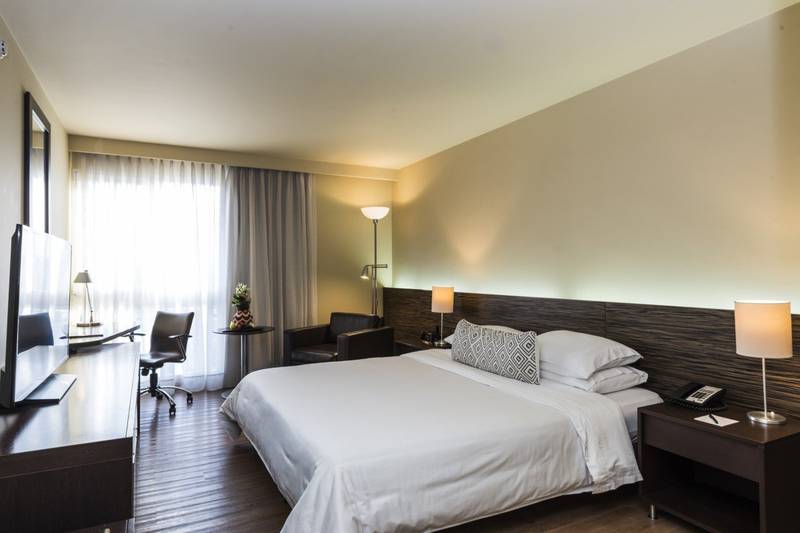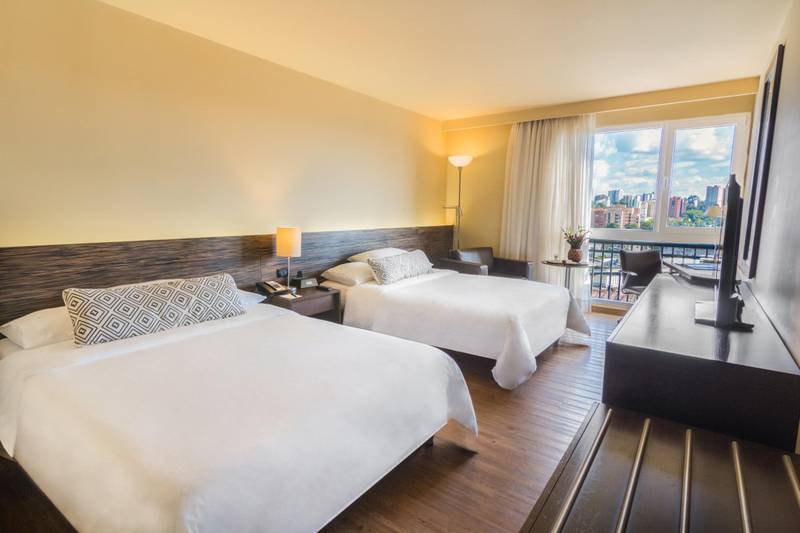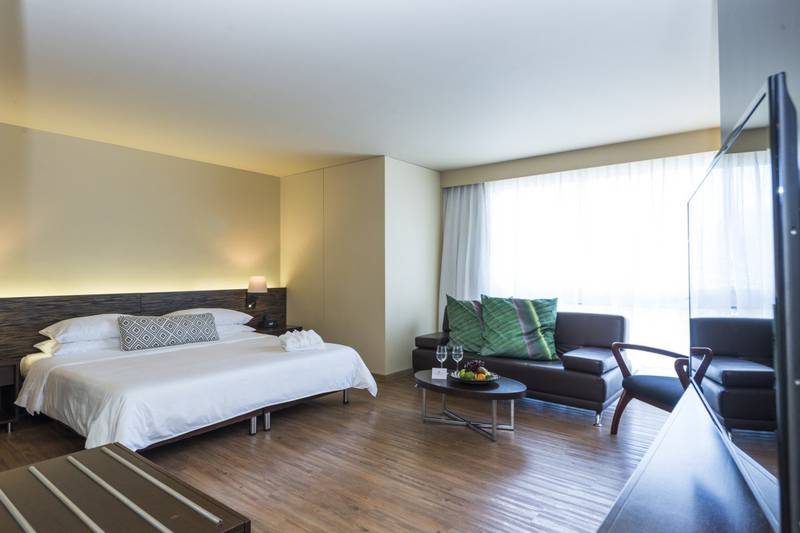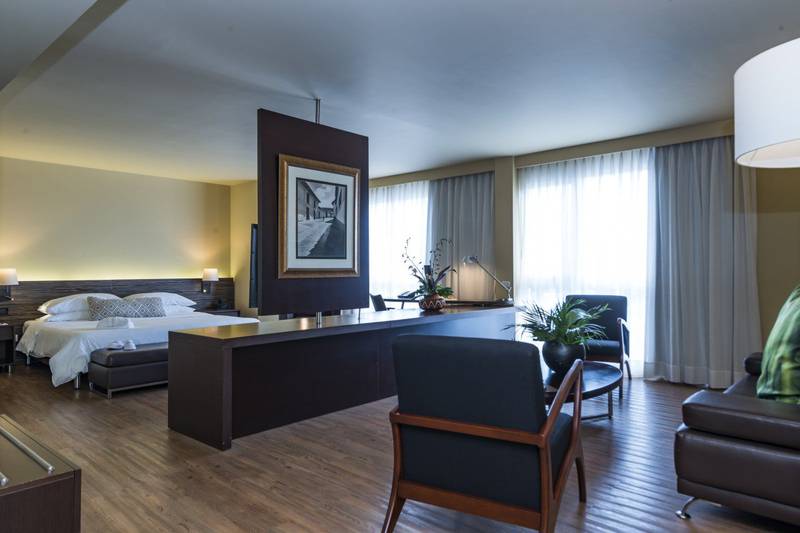 Rooms
Where you will stay in Pereira, the Hotel Movich Pereira's 202 rooms are made to guarantee delightful relaxation in the city's zona rosa. Get to know what it is like to stay in this hotel at the best value for money.
See more
Services
Always avaible to meet all your request
Enjoy a unique stay with the Movich Pereira Hotel services.
See more
Gym

Keep fit in the hotel's fully equipped gym with 24-hour service.

Steam Baths

Enjoy a steam bath in the Turkish bath, a massage in the Jacuzzi or relax in the Movich Pereira hotel's sauna.

Pool

The pool has a solarium area for you to relax in the sunshine.

Spa

The hotel spa is a perfect place to relax after a day of sightseeing in Pereira. You can get more information here.​

Concierge

Will be responsible for making your stay in Pereira a unique experience with suggestions that include activities as varied as walks through the coffee zone to recommendations for places to visit for nightlife.

Wi-Fi at no additional cost

Stay connected during your entire stay at the hotel.

Transfers

Transfer with booking and extra charges.

Event venues

Celebrate your corporate and social events in our elegant rooms. You can get more information here.​

Ebano Restaurant

The Ebano restaurant at Movich Pereira Hotel is considered one of the best upscale restaurants in the region for its special care in the kitchen and its warm personal service. You can get more information here.​

Tipsy Bird Bar

This is a unique place in the city of Pereira with signature cocktails where you can hear the music of the 70s, 80s and 90s. Every Friday you will be able to see the region's best rock bands playing live great hits.

BOOK NOW

Ébano Restaurant

The signature dishes served at our restaurant are made with local and regional ingredients. And as well as the divine aromas, flavors and colors of Colombia, we also serve international dishes.

Tipsy Bird Bar

Want to hang out somewhere original, sophisticated and unique? This is the place to discover signature cocktails to the sounds of the 70s, 80s and 90s. On Fridays, rock bands will give you a spectacular, fun night out. The décor is warm and versatile, ideal for spending time with friends relaxing, a long chat or even a romantic evening.

Event rooms

Our meeting rooms and event halls are a great choice for business and family occasions. They are all equipped with audiovisual equipment and high-speed WiFi, at no additional cost. The room rental scheme is flexible: you can book an executive room for a work meeting with colleagues, or spaces for up to 500 people with natural light and catering services.

Gym

At Movich Pereira we want to offer you a place to live and work in total comfort, warmth and luxury. Take advantage of our fully equipped gym, which is open for your use 24 hours a day. Now you can stay fit whenever you like! Work out, relax, or start a daily routine with our modern equipment. It's a bright ...

Spa and wet areas

For total well-being, we have the best facial and bodytreatments in our spa. Achieve perfect mind-body balance! There's also a classic massage service to release tension, stress and pain. For double the benefit, book a couple's massage and share invigorating sensations in the best company.

Swimming pool

We have an outdoor heated pool, ideal for free-time relaxation and stimulating exercise. Let the water envelop your body and enjoy the pleasure of having a premium swimming pool available to you at all times. So you can lie back and allow the sun to caress your skin while you breathe aromatic breezes, the area has a sun terrace.

Concierge

Having the expert, friendly, attentive concierge at Movich Pereira will be one of the best experiences of your life. They will cater for all your requirements, answer your questions and share tips and tricks to help you to get the best from the local city nightlife. If it's happening in the city, your concierge knows about, and can provide ...
Our location is
Unbeatable
The Movich Pereira Hotel is located in Pereira's zona rosa, in the heart of the coffee-growing area. This region stands out for its unique sunsets, its fascinating culture and its happy people.
Movich Hotels
+57 (601) 521 5050
reservas@movichhotels.com
Carrera 13 # 15 – 71, Pereira, Risaralda
Explore